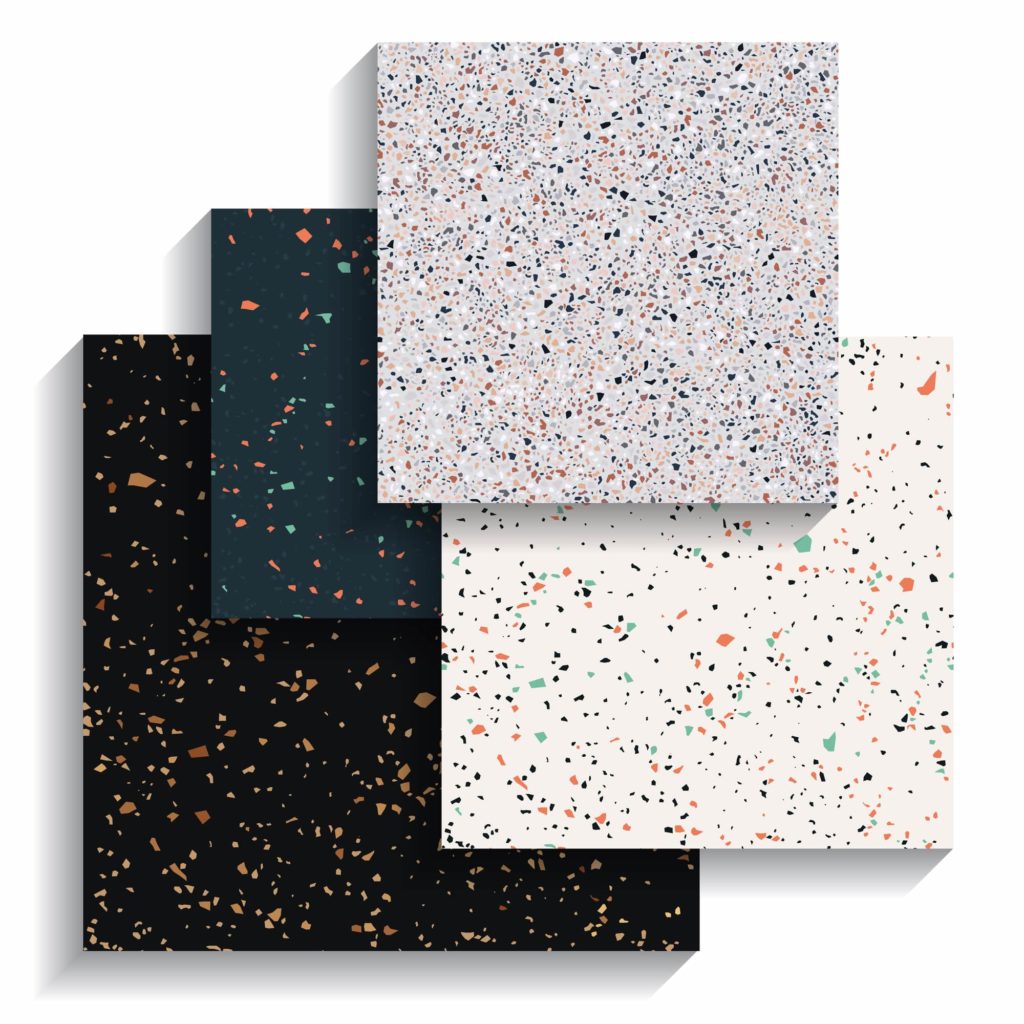 For centuries, terrazzo has continued to dominate most building projects. Today, it is described as one of the most long lasting and beautiful yet, low cost flooring materials. Terrazzo is a sustainable flooring material ideal for high traffic areas like airports, hospitals, schools and other public spaces. Due to its exceptional resilience, terrazzo usually lasts even longer than most of the buildings where it is used.
Terrazzo also offers unlimited options when it comes to architecture and design. The material can be integrated with various kinds of natural stones and resins to create unique and customized spaces. In commercial buildings, terrazzo can even be used to create logos and other attractive architectural features. Whether you opt for epoxy or cement terrazzo, both provide the same outstanding qualities.
Despite the overwhelming durability and aesthetics of terrazzo, the material is not damage proof. Considering that the material is often used in open spaces with constant activities, they are exposed to various forms of damage. These could impact quick tear and wear, cutting short the life cycle of the floors. Professional terrazzo restoration is the ultimate solution that can help you revive your terrazzo floors from such impacts.
Benefits of Terrazzo Restoration
Due to the widespread knowledge about the longevity of terrazzo, some people often see procedures like restoration as a waste of time. However, there are many reasons why terrazzo restoration is recommended for all surfaces with the material. The basis of restoration is to eliminate the impacts of damage and ageing so the surfaces can look new again. Nevertheless, the following are the key benefits of terrazzo restoration.
Remove surface imperfections
It is true that terrazzo can withstand the impacts of constant foot traffic and activity for very many years. But, there are some conditions that may hinder the longevity of the material including abrasions, deep scratches and cracks. Apart from just making the surfaces rough and uneven, deep scratches can also develop into cracks if they are not sealed on time. One of the main objectives of terrazzo restoration is to eliminate all the imperfections, thereby enhancing the resilience of the material over time.
Revive the appearance of terrazzo
Even with proper regular cleaning, terrazzo can still hide dirt, grime and stubborn stains. If these are left to accumulate on the material, they can weather the protective layer making the surfaces susceptible to damage. Besides, the appearance of the flooring can also become yellow and hazy after some time. Professional terrazzo installation entails various treatments that will truly bring back the lost shine of the material.
Extends the lifespan of the flooring
Professional terrazzo restoration will ensure that all defects and issues with the flooring are detected are appropriately resolved on time. As a result, your floors will remain in proper condition for much longer. The improved appearance will also keep the surfaces looking good and lustrous for many years to come with minimal maintenance. Professional restoration can easily transform even an old and worn out floor into a useful and beautiful spectacle.
Hire Professional Terrazzo Restoration Service Singapore
If you are looking to restore your terrazzo floors, walls or stairs, Polishing Singapore is the professional to always engage. We specialize in custom terrazzo restoration service for homes, schools, hospitals, offices, businesses and other public buildings in Singapore. Due to our expertise and experience in stone polishing, we guarantee tailor made terrazzo restoration solutions for all terrazzo floors, wall panels, stairs and other installations.
Due to the variety of terrazzo applications, we understand there are several risks that the surfaces can be exposed to. Some of the most common problems experienced on terrazzo include abrasions, deep scratches, cracks and discoloration. As the experts in terrazzo restoration, we pursue unique approaches tailored to the conditions of the material and your expectations. Our goal is to deliver customized restoration treatments that will not only improve the resilience and appearance of terrazzo but, also add more life to it.
Our terrazzo restoration service entails proper inspection of the surfaces, cleaning, repairs and resealing. We emphasize a comprehensive terrazzo restoration service that will no doubt bring back the outstanding lustre and comfort of the material right into your spaces. Get in touch with us today for highly reliable and affordable terrazzo restoration service Singapore.