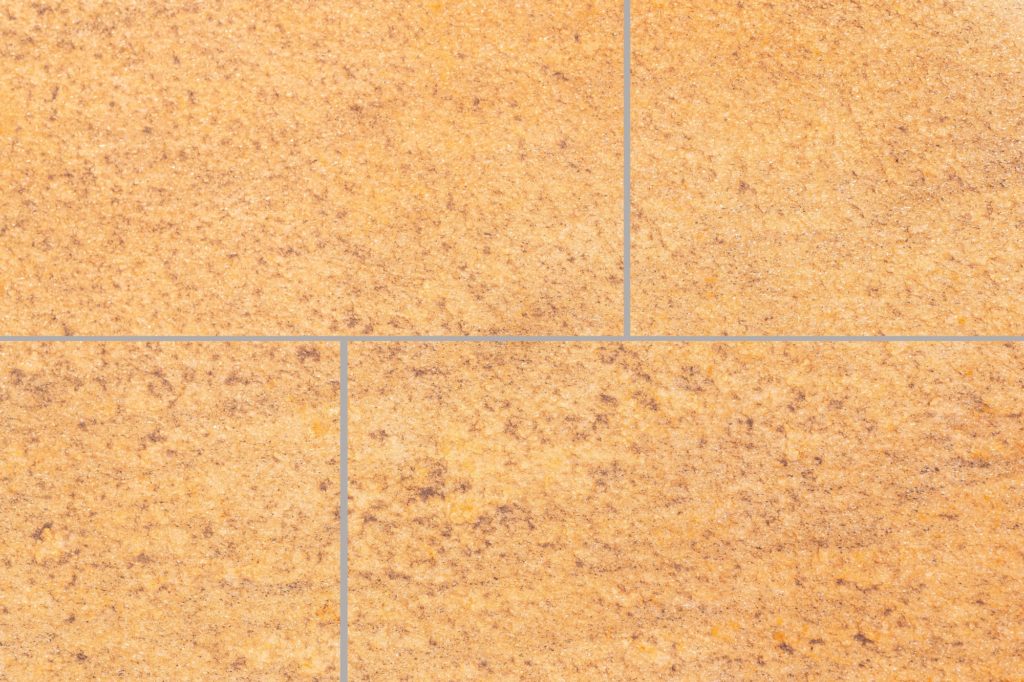 Sandstone is loved by many because of its rustic and sleek appeal. However, the fact that it is eco-friendly and biodegradable also give it an upper hand in a majority of building projects. Besides, it is also a more cost effective, durable and versatile building material. Compared to most types of stones, sandstone ages quite well.
There are many attractive benefits of sandstone that make them a great option for a wide range of applications in homes and commercial spaces. This stone can withstand degradation for a very long period of time in wet weather without losing its beauty. It serves myriad applications including flooring for walkways, patios, gardens, balconies and pavements.
Others also use sandstone in fabricating rustic wall features. Despite their porous nature, these stones are usually a great addition to pool areas too. They also stand apart in veneering and cladding applications. Wherever they are used, sandstone always offers an authentic earthly feel with a unique twist of elegance.
Sandstone is a natural eco-friendly stone, which means it is totally safe for use both indoors and outdoors. Regardless of the applications, sandstone also requires proper care in order to preserve its functional and aesthetic benefits. Regular sandstone polishing is the best way to keep the stones in shape over time.
Benefits of Regular Sandstone Polishing
There are a number of reasons why stone experts recommend regular sandstone polishing. The following are the key benefits of letting professionals to regularly polish your sandstone installations.
Maintain the appearance of the stones
Sandstone has a very unique rustic look that makes it easily distinguishable from other types of natural stones. However, that look can be easily compromised by defects like stains and scratches. If the stones are not regularly polished, they can harbor stubborn stains that may be very hard to remove later.
One of the key aims of regular sandstone polishing is to preserve the elegant looks of the stones. The procedure entails proper stone cleaning and stains treatments, which will surely keep your sandstone looking as if they are just installed.
Extra protection against surface defects
Generally, sandstone has better resilience to weather elements like water as well as repeated traffic. But, that does not mean that it cannot succumb to wear and tear. If stains, dirt, grime and scratches are allowed to build up on the stones, they can quickly wear them out, forcing you into early replacements.
Apart from just preserving the appearance of the stones, sandstone polishing also involves the application of sealers to protect the surfaces from damage. Proper sealing will give the stones extra protection against stains, scratches and other elements of weathering.
Hire Professional Sandstone Polishing Service Singapore
To some people, sandstone polishing might seem like a DIY task but, that is not true. In fact, proper sandstone polishing entails a series of custom treatments that can be very challenging to just any ordinary home owner or cleaner. Besides, sandstone polishing requires special products and tools that only a stone polishing professional knows best.
Polishing Singapore is the expert in sandstone polishing Singapore that you should engage to take proper care of the stones in your home or business premises. We understand the greater functional and aesthetic value of sandstone and, have the expertise to make sure that the stones are given the best care for longevity.
Our company is very meticulous in the way we deliver sandstone polishing services. We emphasize comprehensive polishing service that will not only eliminate surface defects on the stones but, also improve their resilience to damage over time. We seek to make sure that you can continue enjoying the natural benefits of the stones without any financial burden.
We usually begin the procedures by conducting proper cleaning of the stones using organic cleaning products. The cleaning solutions that we use are proven safe on the stones and environment but, very effective in fighting dirt, grime and stains. For stubborn stains, we can also apply custom stain treatments to effectively wipe off all the defects.
To protect the stones against further staining and other elements of damage, we will also seal your sandstone flooring and wall features using the right natural stone sealers. Get in touch with us today for professional sandstone polishing service Singapore.