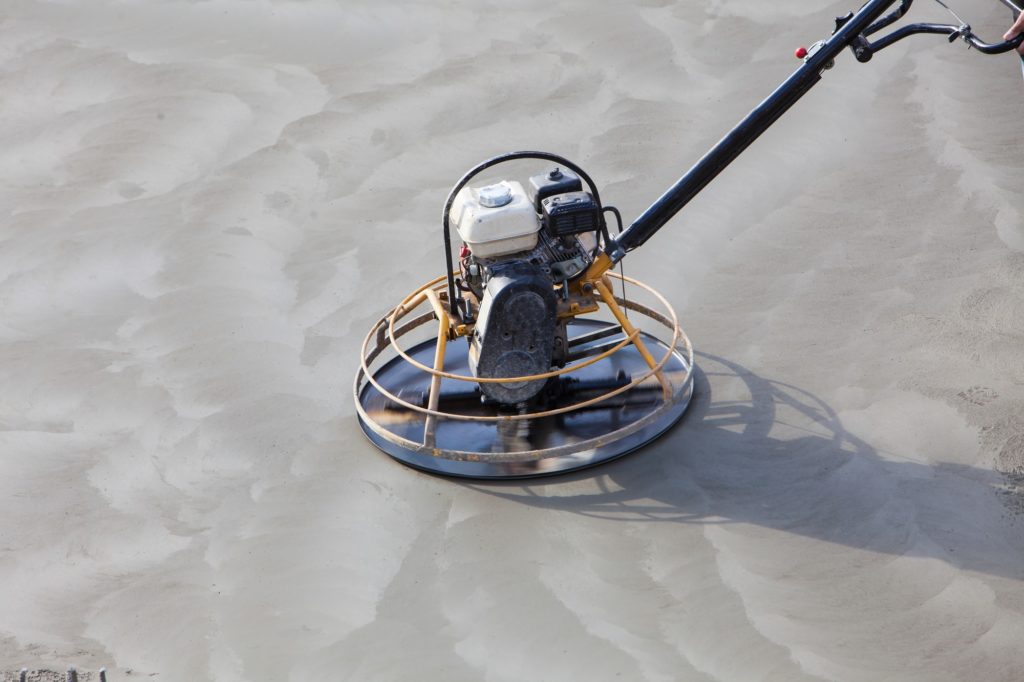 Concrete has immense benefits that have given it the lead in a majority of flooring projects over the years. However, the key attribute of concrete that most people adore is its strength and longevity. Concrete floors provide tough, stable and long lasting surfaces that can effectively withstand consistent foot traffic and activities over the years. Even under the intense pressure from heavy machinery and several activities in industrial spaces, concrete floors hardly show signs of weakness.
The versatility of concrete is another key reason why many people are considering installing concrete floors in their homes, offices and business spaces. The material delivers outstanding performance in both indoor and outdoor environments. Besides, concrete also provide endless options for designing floors. Concrete slabs can be installed as they are or mixed with dyes to create luxurious and colorful spaces. On the other hand, you can also customize the texture of concrete floors to complement the other aspects of your décor.
There is indeed so much that you can achieve with concrete floors since they provide both functional and aesthetic benefits. However, you should not forget that concrete is also subject to wear and tear over time. That means you need professional routine concrete floor maintenance in order to preserve the integrity of the floors and your building.
Benefits of Routine Concrete Floor Maintenance
Due to the high resilience and longevity of concrete, some people usually consider maintenance to be an unnecessary procedure. Check out the benefits that you can achieve with professional routine concrete floor maintenance below.
Keeps your floors clean and safe
Neglected concrete floors can accumulate dirt, grime and stains over time. These will not only interfere with the shine of concrete floors but, also impact quick wear. On the other hand, grime, stains, germs and dirt can also cause health risks and accidents. Regular maintenance will ensure the thorough concrete floor cleaning to effectively remove all elements of dirt, grime, stains and germs. That will no doubt keep your concrete floors hygienic, shiny and safe for daily living and work.
Extends the lifespan of concrete
Without routine maintenance, your concrete floors can weather out very quickly. Elements like loose particles of dirt, moisture and stains can harm the surface treatments and impact quick damage to the concrete slab. Regular maintenance will eliminate all the dirt particles, keep the surfaces dry and, also remove all the stubborn stains. As such, you will be able to significantly slow down the process of wear. Besides, maintenance also entails the re-polishing of concrete floors, which improves their resilience to damage.
Helps you to detect flooring problems early
The signs of concrete damage usually start very small and, that is why it is easy to overlook them. The only problem with such assumptions is that it gives the issues more time to develop and overwhelm the concrete. Routine concrete floor maintenance also involves proper inspections of the floors to unearth any signs of damage for immediate repair. While concrete maintenance can help with fixing minor flooring issues, more significant problems will require professional concrete floor repair service. Addressing concrete flooring problems at their early stages will enable you to significantly reduce your overall floor repair and maintenance costs.
Hire Professional Concrete Floor Maintenance Service Singapore
Concrete maintenance might seem like a walk over to some people but, there is so much involved in the procedure that you cannot effectively handle on your own. At Polishing Singapore, we are the experts that you should engage for professional concrete floor maintenance service Singapore. Beside our expertise and experience, we also have the best tools and equipment for efficient concrete floor maintenance.
Since concrete floors are installed in diverse environments and spaces, there are various kinds of threats that they can be exposed to. Therefore, we emphasize comprehensive concrete floor maintenance service that covers all the functional and aesthetic aspects of concrete. Our goal is to see to it that your concrete floors are kept clean, safe and stable all year round.
The main concrete maintenance procedures that we provide include thorough cleaning, stain removal, drying, burnishing and re-polishing. Our company also offers concrete floor repair service to address any problems that may have been detected during the inspections. Get in touch with us today for professional concrete floor maintenance service Singapore.