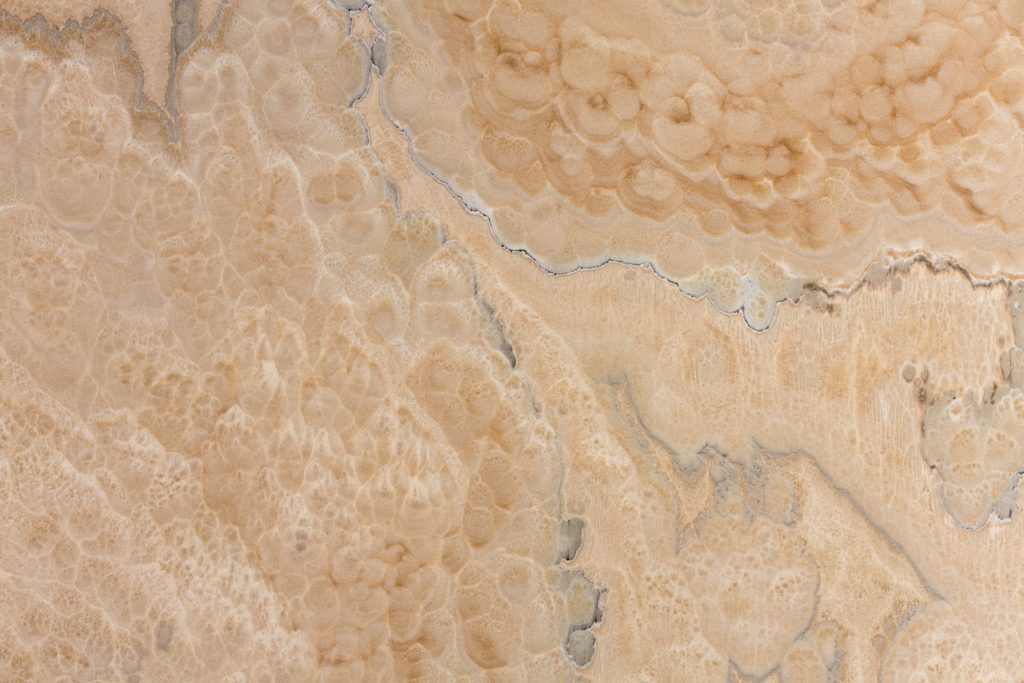 Although some people consider onyx stone underutilized in building projects, it is one of the most versatile stones used in a wide range of residential and commercial buildings in Singapore today. There are a number of reasons why onyx is swiftly gaining recognition in the industry today. Onyx has an authentic luxurious appeal that enables it to portray a unique sense of elegance in every living and work space.
Onyx provides practical advantages as well as adding beauty to kitchen and bathroom countertops. Due to their light weight, onyx is also used in myriad creative applications including wall panels. The materials are quarried in smaller slabs that can be easily customized to spaces in different styles. Onyx usually comes in a wide range of patterns and colors that also ensures greater flexibility in their applications.
Onyx stone is also very translucent, which allows backlighting to create varying decorative features and looks in rooms. In most occasions, the stone is used as vertical wall features and in partitioning rooms for hotels, clubs, casinos, restaurants and bars. Despite all these impressive features, onyx is also a very delicate stone. And, regular onyx polishing is the best way to preserve the stone's unique properties over time.
Benefits of Onyx Polishing
Onyx is a true mark of luxury that can significantly set your spaces apart. However, it has some vulnerabilities too that could easily overwhelm the material if you do not take proper care of it. Onyx polishing is one of the highly recommended treatments for preserving the stone. Here are the key benefits of professional onyx polishing.
Preserves the beauty of the stone
Onyx usually comes in a variety of patterns and shades that gives the stone its unique authentic beauty. However, the stone is quite soft and delicate on the surface, which makes it susceptible to a wide range of threats. The common surface defects experienced on onyx include etches, scratches and chips.
If the stone is not polished regularly, these defects can accumulate over time, thereby making the surfaces to feel rough and look old. Regular onyx polishing will ensure that all those defects are eliminated on time so the surfaces can remain looking spotless and glossy.
Improves resilience
Neglecting to polish to your onyx surfaces can be very costly in the long term. Apart from just the defects explained above, the grout lines on onyx surfaces can also harbor dirt and germs. Due to the delicate nature of onyx, harsh cleaning chemicals and acidic liquids can also erode the surfaces. If these stone is not regularly polished, you might end up even replacing the entire countertops.
Professional onyx polishing will effectively remove the stains and give the surfaces added protection to withstand those elements over time. As a result, you will be able to continue using the surfaces for much longer without the stress of frequent repairs or replacement.
Hire Professional Onyx Polishing Service Singapore
On your own, taking proper care of onyx surfaces is not usually very easy because the stone requires specialized treatments that only a stone expert can deliver. At Polishing Singapore, we are the stone professionals that you should engage for custom onyx polishing service Singapore. We offer comprehensive onyx polishing service that will not only preserve the beauty of the stones but, also significantly improve their resilience over time.
Regardless of where the stones are used in your building, we always recommend and perform regular onyx polishing service. Depending on the condition of the stones, we provide a wide range of care treatments for onyx. Our experts will first clean the surfaces properly using organic cleaning products to effectively remove all dirt, stains and grime. Proper cleaning will enable us to clearly determine all the defects so they can also be honed.
We use specialized stone polishing tools to precisely hone the surfaces to the desired standards. The polish is applied severally until the surfaces regain their smooth and glossy appeal. Last, we will also reseal the surfaces so they can effectively withstand erosion by acidic liquids and chemicals. Our experts can also deliver other additional onyx care treatments that you may need on the spot.
We will also advise you on some of the simple onyx care procedures that you can easily perform on the go. Talk to us today for professional onyx polishing service Singapore.